India is still a developing country and despite much efforts in the field of investments, the country is unable to bridge the gap between rich and poor, thus making a large part of the country poor. Poverty is a huge economic issue in India that needs to be immediately addressed. A large portion of the population lives in rural areas and suffer from poverty. Many economists are of the view that the government should invest in poverty aid programs, and should also work towards income generation by improving the employment ratio in the country. Though India has been able to lift a significant percentage of its population out of poverty, many still live in it and that's alarming.
Poverty In India: Stats And Figures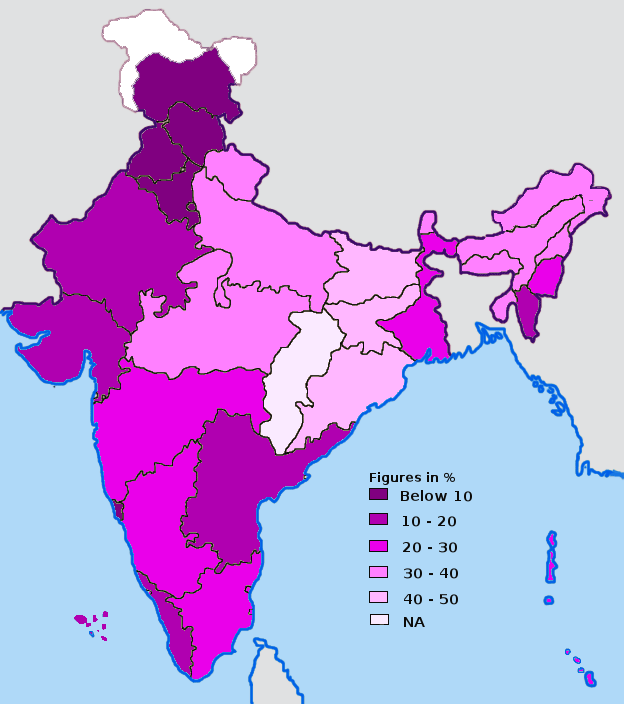 In India,21.9% of the population lives below the national poverty line in the year 2011.
13.4% proportion of the employed population live below $1.25 on PPP a day in total. Source
In India which is the second-most populous country of the world, more than 800 million people are considered poor. Most of them live in rural areas without any employment. This lack of wage is driving many Indians from rural to urban areas where they live a life of poverty and despair in slum areas with insufficient drinking water, no proper sanitation and garbage disposal facilities and in many areas no electricity as well. Issues like poor hygiene conditions give rise to diseases like cholera, dysentery, and typhus which affects children and take their lives.
In India, poverty affects everyone from children, families and individuals in a variety of unforeseen ways such as :
Malnutrition
High infant mortality rate
Lack of education
Child Marriage
HIV/AIDS
Child Labour and more.
Overcoming Poverty In India
Overcoming poverty is a difficult task but not impossible. In order to solve the problem of poverty, it is important to take immediate measures at all levels. Equal employment opportunities should be given to people living in rural areas, proper healthcare and sanitation facilities must be provided to people, illiteracy should be curbed by encouraging basic education.
The government should also invest in various schemes that work towards the goal of reducing poverty and offering financial assistance to the poor. All these factors when considered together can reduce the incidence of poverty in India. Moreover, poverty is not a problem of an individual, it is a problem of the whole nation and we as a nation should do our part in curbing this condition. Poverty is increasing at an alarming rate and it needs to stop!
Want to do your bit in overcoming poverty in India? Support Unite4India for a better and happy India!